Fujitsu Technology and Service Vision
Fujitsu's vision for a more sustainable world
Fujitsu Technology and Service Vision
Fujitsu Technology and Service Vision (FT&SV) 2022 provides foresight into the future we are building with our stakeholders.

The world is now at a crossroads.
How will the future unfold?
What are key themes that will shape and define the next decade?

To find the answers to these questions, and to understand how we are helping to transform business and society, read the FT&SV and take the first step to change the world for the better.

What is the Fujitsu Technology and Service Vision 2022?
This year's launch marks the tenth anniversary of the Fujitsu Technology and Service Vision, which was first published in 2013 and contains proposals and strategies for achieving a sustainable future through digital innovation.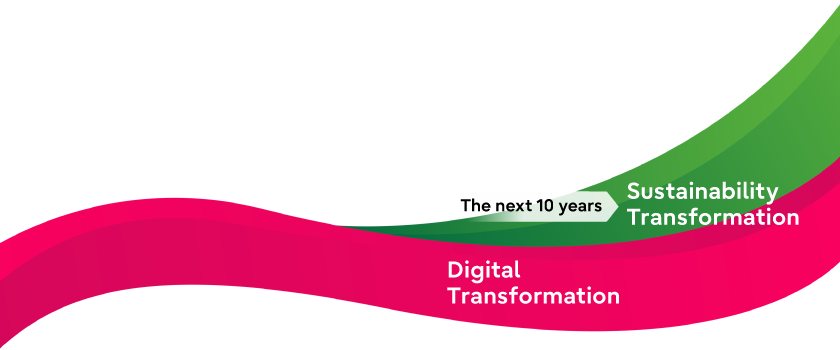 The Fujitsu Technology and Service Vision 2022 offers readers a vision of the future that technology will open up. It sets out how under purpose-driven leadership Fujitsu can deliver change that matters, as well as calling out specific themes that impact change, and how they vary from business to business.
MODULE 1 - Sustainability Transformation

Why do companies need to promote sustainability transformation now?

Sustainability is a growing priority in management, and it is undoubtedly one of the most pressing issues to be addressed. What are the challenges and success factors for achieving sustainability transformation? Take a look at our observations.

MODULE 2 - Technology Vision
What kind of future can we envision in order to realize a sustainable society through technology innovation? Here are four future visions that Fujitsu wants to create together with its customers.

(1) Borderless World: Physical and digital experiences will converge to deliver a human-centric experience that maximizes each person's potential.
(2) Dynamic Resilience: Uncertain future scenarios will be digitally rehearsed to build resilience across business and society.
(3) Discovery Revolution: Innovation will be accelerated through computing power and next-generation AI to combine the creativity of people and technology.
(4) Trust in Everything: Distributed trust will connect people, data and systems safely and securely, supporting a regenerative society.

Please see the details of each future vision.

MODULE 3 - Transformation of Business and Society

Fujitsu is your partner, driving sustainability transformation through digital innovation to realize the future vision.

As customers' sustainability transformation partner, Fujitsu will address important issues in seven key focus areas, including the four vertical areas of cross-industry solutions and the three horizontal areas that support these areas.

Please explore Fujitsu's transformation scenarios and latest customer stories together.

Read the latest FT&SV and take the first step to change.