Evelina London Children's Hospital
Transforming PICU care with digital diaries
Evelina London Children's Hospital used paper diaries to keep a record of patients' stays in the Paediatric Intensive Care Unit (PICU). However, when the COVID-19 pandemic struck, visiting and family access was severely restricted. It wanted to upgrade to a remotely accessible, child-friendly digital diary. The hospital co-created an app using Fujitsu's HXD approach, connecting families to their sick children and providing a means for patients to remember their hospital journey.
Challenge
Evelina London Children's Hospital wanted to upgrade its physical journals to a digital diary and needed a partner who could develop the app quickly during a challenging pandemic.
Solution
Fujitsu Digital Diary on Microsoft Cloud for Health platform
Outcomes
Patients have a record of their admission, non-clinical aspects of their treatment and progress in the PICU, reducing anxiety

Improves communications between parents and the clinical team
Enables relatives, who are unable to visit due to the pandemic, to keep up to date with their loved one's progress in real time
Care can become more personalised due to the 'All About Me' section
Starting from scratch, the team listened and was adaptable and dynamic. They understand how much it means and put their all into finding the right solution.
Gemma Colucci, Senior Staff Nurse, Evelina London Children's Hospital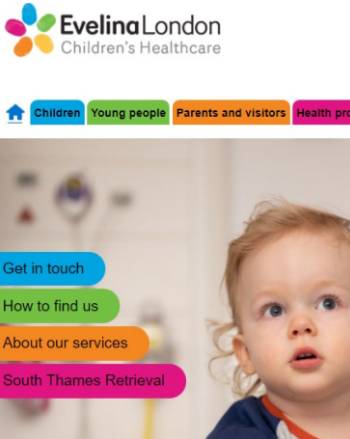 28
PICU patients took part in the pilot
Evelina London Children's Hospital provides comprehensive health services from before birth, throughout childhood and into adult life. It is the second largest provider of children's services in London and is a world-leading centre of life-changing care. Based in a stunning purpose-built building, Evelina London Children's Hospital hosts 281 beds, including 30 intensive care beds and a 46-cot neonatal unit, as well as five children's operating theatres.
Transforming PICU communications
Evelina London Children's Hospital treats thousands of children, some of whom require treatment in the PICU. Usually, nurses would keep a journal for patients to help them remember their time, and keep parents and relatives informed on the latest developments. This became particularly important when COVID-19 struck and visiting hours were restricted.

The pandemic prompted the hospital to think of more interactive ways to capture each patient's stay in the PICU. A digital platform seemed like a natural evolution; however, Evelina London Children's Hospital didn't have time for a formal market evaluation. Instead, it reached out to its former Chief Technology Officer (CTO) who now works for Fujitsu.

"COVID-19 had radically restricted family access to patients, so we wanted to find a digital solution that could improve awareness and involvement of parents and carers in the day-to-day progress of their child in the PICU," explains Andrew Nyman, Paediatric Critical Care Consultant at Evelina London Children's Hospital. "To speed the process, I contacted Fujitsu to see if it could help in the development of an interactive app."
Co-creating a digital diary app
Evelina London Children's Hospital and Fujitsu co-created a versatile and secure app over four two-week development sprints. It was an agile, flexible and collaborative exercise that drew on Fujitsu's extensive resources and went through several iterations following detailed feedback from frontline nurses.

"Over the years, the patients we treat have increasingly complex care needs, so we wanted the app to offer us the space to care for them more effectively and become more than a simple digital diary," explains Gemma Colucci, Senior Staff Nurse at Evelina London Children's Hospital. "We wanted to be able to take photos and create areas for parents to fill in important information. Fujitsu helped us to realise that vision very quickly."

The app was implemented using the Microsoft Cloud for Health platform and in particular Microsoft Power Apps (canvas apps & Power Apps Portals), Power Automate and Microsoft Dataverse, which provided the necessary security and scalability, and allowed new features to be added to the product seamlessly. With a minimum viable product ready within months, Evelina London Children's Hospital was ready to pilot the app with 28 patients. It offered a child-friendly, intuitive platform for sharing updates, photos and non-clinical information, along with a portal for authorised family members to access.
Following the pilot, Evelina London Children's Hospital conducted a survey for patients' relatives and nurses, which showed overwhelming positivity about the app. The app enables worried parents to track their child's progress in real-time, while also providing a place for care pathway milestones to be reflected in a child-friendly way that is accessible to the family and relatives (where access is granted).

What most impressed the hospital was the speed with which Fujitsu was able to develop the app – up to five times faster than a normal development cycle. This ensured Evelina London Children's Hospital was able to roll it out during the pandemic and provided a critical communications platform during incredibly stressful times. It is now ready to introduce upgrades, such as video capability, making it even more useful.

"Fujitsu is efficient, responsive and engaged. Starting from scratch, the team listened and was adaptable and dynamic," concludes Colucci. "They understand how much it means and put their all into finding the right solution."