New South Wales Department of Primary Industries (NSW DPI)
Real world operations improvements using modern reporting tools
The NSW DPI Animal Biosecurity team partnered with Fujitsu Data & AI to review their quarterly compliance reports and determine the right path for more efficient reporting.
Challenge
NSW DPI were using lengthy, manual reporting processes that were impacting team efficiency and diverting resources from other activities. They engaged Fujitsu Data & AI to see how these processes could be improved.
Solution
Fujitsu Data & AI worked with NSW DPI over 14 weeks to redefine reporting to improve recipient engagement, clarity of data, and sculpt their reports to assist in investigation, action and increase efficiency.
Outcomes
The reports are now presented on cloud-based Power BI, with Power Automate as the orchestration tool.
Report creation has gone from 35 hours active effort to 1.
Days till report availability have been reduced from 42 to 1.
Your team has been great to work with, overcame challenges and delivered a great result. We are so excited to have the new dashboards and the response has been very positive.
Sarah Britton, Chief Veterinary Officer and Group Director, Animal Biosecurity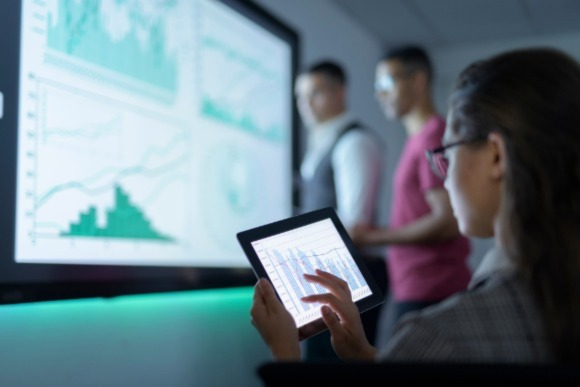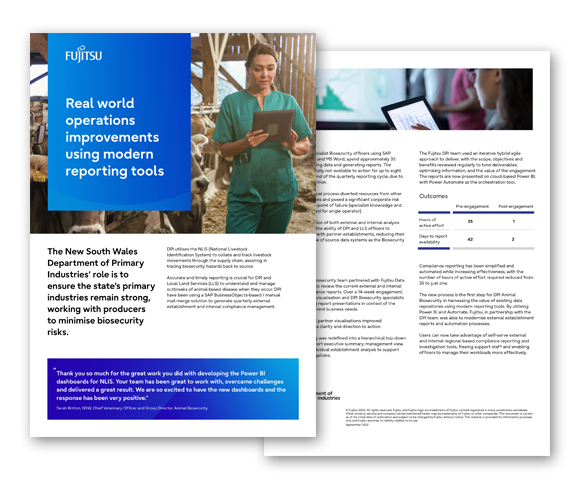 The New South Wales Department of Primary Industries' role is to ensure the state's primary industries remain strong, working with producers to minimise biosecurity risks.
Each quarter, specialist Biosecurity officers using SAP Business Objects and MS Word, spend approximately 35 hours on processing data and generating reports. The reports are generally not available to action for up to eight weeks from the end of the quarterly reporting cycle, due to resourcing contention.

The existing manual process diverted resources from other core team activities and posed a significant corporate risk in terms of single point of failure (specialist knowledge and process configured for single operator).

Delays in generation of both external and internal analysis reports reduced the ability of DPI and LLS officers to remediate issues with partner establishments, reducing their efficacy and value of source data systems as the Biosecurity tool.
The DPI Animal Biosecurity team partnered with Fujitsu Data & AI in May 2021 to review the current external and internal quarterly compliance reports. Over a 14-week engagement, a team of Fujitsu visualisation and DPI Biosecurity specialists reviewed existing report presentations in context of the Department's current business needs.

The new external partner visualisations improved engagement, data clarity and direction to action.

Internal reporting was redefined into a hierarchical top-down structure to support executive summary, management view of teams, and individual establishment analysis to support proactive investigations.

The Fujitsu DPI team used an iterative hybrid agile approach to deliver, with the scope, objectives and benefits reviewed regularly to tune deliverables, optimising information, and the value of the engagement. The reports are now presented on cloud-based Power BI, with Power Automate as the orchestration tool.
Compliance reporting has been simplified and automated while increasing effectiveness, with the number of hours of active effort required reduced from
35 to just one.

The new process is the first step for DPI Animal Biosecurity in harnessing the value of existing data repositories using modern reporting tools. By utilising Power BI and Automate, Fujitsu, in partnership with the DPI team, was able to modernise external establishment reports and automation processes.

Users can now take advantage of self-serve external and internal regional based compliance reporting and investigation tools, freeing support staff and enabling officers to manage their workloads more effectively.